"The Ryde Hotel: a Delta landmark rooted in history, mystery and controversy"
F/A Presents: A Weekend at Ryde Hotel

Location meets art, live music, motorcycles and more.

Friday evening, May 31st, 2019 @ 7PM
Camping, DJ, Art, Ariel Schneider on Piano in the Ballroom, Food & Bar - FREE ADMISSION

Saturday, June 1st, 2019 @ Noon
General Admission $18 adv/$20 door. Tickets: HERE
Camping, Art, Raffle, Food & Bar, Vendors from 12pm-5pm, Live Music 6pm-11pm, DJs until close
Weekend Camping Pass: HERE
To book a room visit The Ryde Hotel or call 916-776-1318

Sunday, June 2nd, 2019
Brunch @ The Ryde Hotel
NorCal Cycle Swap

Please carpool as parking is limited.

The Gutz, Noelle Fiore & The Deserters, Ariel Schneider, Chuck Suckit, Glass Bat. Art by Phil Leonard, Ursula Rose + vendors and raffle.
The Gutz are a 3-piece melodic hardcore punk rock band, formed in 2012 in Santa Cruz, Ca.
With multifaceted song arrangements, The Gutz create an eclectic variety of songs inspired by bands such as The Clash as well as hardcore pioneers Bad Brains, accompanied with dark tones reminiscent of bands like early TSOL, coupled with the traditional punk rock elements of bands like Swingin' Utters & Cock Sparrer.
New Noise Magazine quotes "their brand of melodic heartfelt punk is downright addictive."
Find The Gutz's new E.P. "Femina Vipera," out now on No Pants Records, available on iTunes, Spotify, BandCamp, Amazon Music and most other music streaming services.
(South) Western Honky Tonk from the high desert of New Mexico to the golden hills of California. Noelle Fiore and the Deserters draw inspiration from the likes of Emmylou Harris, Loretta Lynn, Buck Owens, J.J Cale, Gene Clark, Townes Van Zandt, and the great outlaw country players. Her band includes seasoned players from Bay Area and Sacramento bands such as Ride the Blinds, The Aislers Set, Sonic Love Affair, Gypsy Moonlight Band, and Magic Trick.

Chuck Suckit plays scrappy music that will make you lose it with all homemade instruments. He performs his own version of backwoods country blues with a stripped down one man band beat.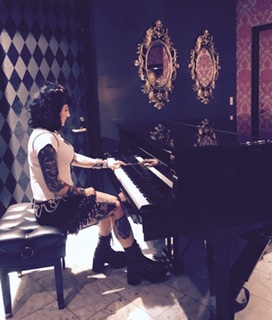 My name is Ariel Schneider and the piano has been one of my best friends since I was about 5 years old. A quote I read in a book called Anton the Dove Fancier said, "strange how one could get attached to an instrument as if it were a person." This describes precisely how I feel about the piano.
Glass Bat is a five piece experimental indie pop band from Sacramento, California formed in 2018.
With a musically diverse cast of folks, the groups members come from the bands Las Pulgas, Hella, Separate Spines, and Alak. Glass Bat creates an elemental atmosphere with their driving beats and ethereal tones. Their influences range from Kate Bush and Bjork to Nirvana and Sonic Youth blending heavy and light like a delicately mixed potion.
Syrarium Studios is a studio/workshop space where ideas manifest and find imaginative outcomes. Almost always using big color and layers of depth, Phil finds ways of luring you into the work by developing a sense of deep and endless space. The sculptural aspect of his work is impressive. Continually adding dimension to already dimensional work takes his art to the next level. Phil's work is reflective of multiple layers of creative thinking. He takes satisfaction in creating art that is process based, but also leaves a ton of allowance for creative interpretation. The ability to create a successful art piece is to travel through the piece, finding your eyes' next metaphorical bus top and waiting for the ride.
Ursula Rose is a Seattle, WA artist born and raised in the heart of the city. Over the past few years she's shown work in over 18 spaces, from cafes to artist venues and galleries, and most recently her work was shown in Out Of Sight '17, followed by a group show at The Factory Gallery, a solo show at Linda Hodges, and original work at the Frye Art Museum Store on view now.

She works primarily in watercolor with occasional dwellings into gouache. Her work is a mix of lovely and haunted; Through her painting she strives to show the underside of our emotions, the beauty in what's broken and lost, and the highlights of what filters in between.


"Ursula Rose's watercolors are ghostly, yet full of life and character, capturing in a few cloudlike pools of color something crucial yet inarticulable about her subjects. The images emerge before your eyes like the moment when tea leaves or coffee grounds in the bottom of a cup become a fortune."

-Sarah Galvin, author